Getting Canadians Outdoors
The work that outdoor programs and outdoor leaders do is amazing. It brings so many benefits to our country and our people. If you run activities that bring people outside or support them to do that, you are our community. Our raison d'être is to serve you in your endeavours. We create the conditions for you to flourish and grow.
The work you do to promote outdoor activity is vital in so many ways, and our strength is in working together to:
Contribute to sustainable economic growth,
Strengthen the people-nature connection,
Promote mental health resilience,
Deepen the connection to self,
Reinforce healthy living habits,
And support community ties.
Depending on the design of the outdoor experience you offer, you may also empower individuals, teach lessons remembered for a lifetime, provide therapeutic benefits, be a vehicle for Truth and Reconciliation, and you most certainly bring deeper joy to your participants.
From our perspective, you deliver magic in the field.
But we know, your hands are tied by too many barriers.
The 12 Barriers Faced By Outdoor Programs
It is amazing to see outdoor programs bring hundreds of thousands of people outside when each and every one of you is facing key barriers. The impact of each barrier is deep and has a significant negative effect on your ability to do what you do best; bring people outside (for a description of each barrier, click on the image).
The OCC exists to help you overcome these barriers. Our focus is creating the right conditions for you to thrive. Once this becomes a reality, you will be able to solely focus on the activities you provide to the communities you serve. We invite you to join us and shape your future. Let's create a country where the outdoor sector is enabling 38.01 million Canadians to experience the deep connection and many benefits associated with outdoor activities.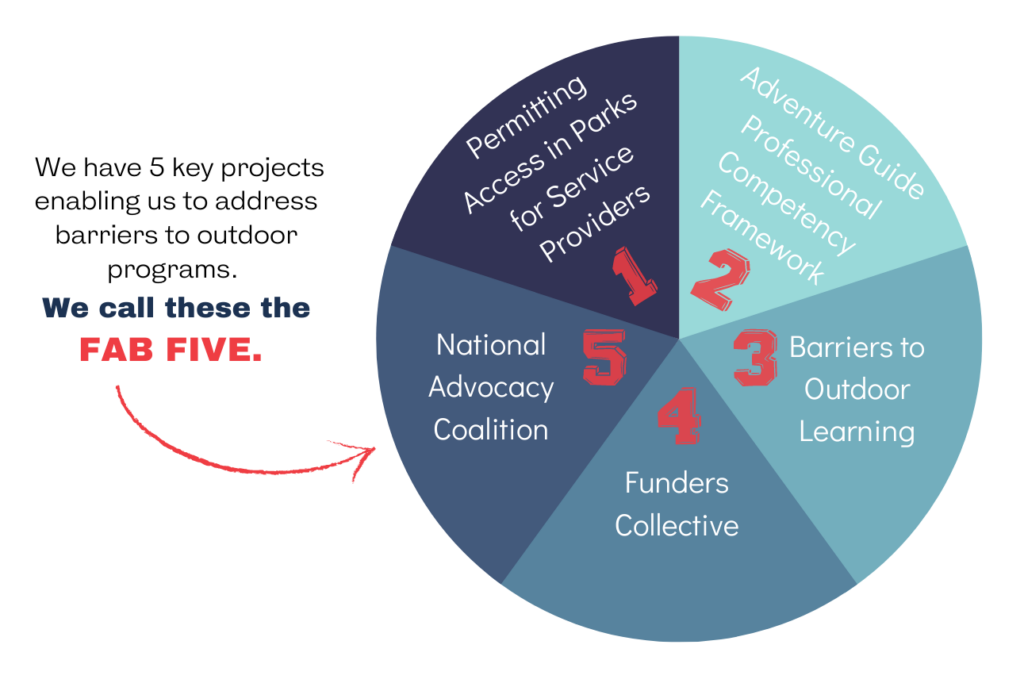 What We Are Currently Doing to Remove Barriers
Facing unnecessary barriers is difficult. This can lead you to feel underappreciated and isolated. Now you have a national organization working to promote the value and the necessity of outdoor activities.
Fab 1 makes it easier for outdoor programs to get a permit to operate in parks and to receive better support when facing specific issues on a land managed by a park entity.
Fab 2 increases recognition of the adventure guide profession leading to better salaries.
Fab 3 creates a reality where school administrators understand the value of outdoor learning, their role in relation to such pedagogical activities and support learning outside.
Fab 4 leads to a collective of funding organizations focused on the outdoors. This means millions of additional dollars available to support outdoor programs.
Fab 5 empowers the outdoor sector enabling the federal government to see how outdoor activities support the achievement of multiple national priorities. This will enable greater funding for outdoor programs and policies that support your growth.
Download our brochure for more information on each of the FAB 5.
Become a Member and Shape Your Future
The OCC is a non-profit organization that works on behalf of its members to empower outdoor programs and allow you to reach your full impact.
By becoming a member of your industry association, you are taking an active role to shape the future of the outdoor sector in Canada.
A small investment supports us to support you, representing your interests in the national arena.
Membership fees are what enables the OCC to do the wider work of advocacy and education to remove the barriers and to have your back. It's a win: win.
As a members-owned organization, we gain strength in numbers and the ability to orient the future of outdoor activity in Canada.
Our membership benefits include:
Access to a national network of outdoor experts,
Access to resources covering a diversity of outdoor-related issues,
Access to pro deals, member discounts, and exclusive access to relevant services,
Information about job opportunities,
The ability to orient the future of the OCC as we are a members-owned organization.
In addition to the perks mentioned above, Associate Members are able to work collaboratively with OCC's consulting services where we can assist you with:
Your program design, risk management, and business development,
The design of strategic plans addressing your biggest pain points as an outdoor program,
Access to expert services specifically tailored for organizations and businesses.
"The OCC has helped me chart a new career for myself. For years I was in a corporate position, living for my weekend outdoor excursions. Now, I take weekends off, and complete my outdoor excursions during the week. I guide on a casual basis, but my goal is to create my own company and get families out doors and active. The courses that I have taken through the OCC are helping me to achieve this goal."

—Lynda, Writer and Lover of the Outdoors
Not Sure About a Membership Yet?
Book an exploratory call with Franz Plangger, the OCC's Executive Director, and discover how we can help you reach your full impact.
Together we go far. By working with us and investing in our capacity to serve outdoor programs, you are accelerating the transformation needed for our country to be an outdoor nation. Mental health, climate change and sustainable economic growth, those are only a few of the areas where the outdoor sector can help our society overcome some of our biggest challenges. The most effective way to guarantee that you will be recognized as part of the solution is to have a strong association representing your interest.
Time is ticking on many of those challenges, let's work together to remove the barriers you face. The work you do is important.